Why I hate Kathy Belle
Last Updated!
Sunday, October 10, 1999 11:32:07 PM
This page has been updated to remove broken links and included in a new version of my website on November 18, 2007
Katherine Belle was a General Hospital character, a show I don't even watch anymore.
---
Let me Count the Ways....
Disclaimers: Mary Beth Evans is a great actress...I just don't like Kathy Belle,...if you do..fine...you have the right to your opinion...as do I!!!!
1. She Tried to marry Scotty for his money, lied about who she was, all while she was sleeping with a mobster's son!
2. Teamed up with Damian Smith to steal Lucy's company Deception.
3. Tried to Blackmail the Quartermaines by marrying the already married Ned (she didn't know, only Ned & Brenda did).
4. While "married" to Ned Ashton, she demanded for Ned to change his name to Quartermaine.
5. While dating Mac, she demanded him to stop being a cop and to run for Mayor.
6. Planted fake evidence that made Ned and the other Q's think AJ left important company information at the Port Charles Grill, where anyone could locate company secrets.
7. Acts like she is such a big shot now because she's rich. Only because she inheirted Damian's blood money.
8. Got involved with the man who almost killed her. Then sleept with his 18 year old son. ACK!!!
9. Humilates Lucy every year (except Last year, Kathy was susposedly dead, and Eve took over) by causing her underwear to be exposed at the nurses ball.
10. Is attempting the fake a pregnancy, Nikolas is suposedly the father (the 18 year mentioned above).
11. Her smugness Her "I think I'm all that and a bag of chips w/ the dip" prance. (see number 7)
12. Her stalking of Nik
13. Her "let's be jealous of a teenager." cockiness.
14. Her "Let's rub up against Edward to get my way" ways.
15. Her "Let's throw it up in Laura's face that I'm sleeping with her son" female doggness.
16. The Fact that she is attemping to steal sperm from Nik in order to be pregnant!!!!
Numbers 11-15 submited by Kelly Cat
---
I laughed when...
1. When Reginald, sick of Kathy attitude, stole prescription drugs from Lila Quartermaine and tried to kill Kat. She fainted on the staircase and had a pretty bad fault. Too bad she lived. Hubby Ned didn't care, but mobster Damian did. He promised Revenge!!! Did he get any? No!!! LOL!
2. When after stealing Deception from Lucy, Deception model Brenda Barrett, quitted, and joined Lucy new company which is world known, which she bought from Jax.
3. When Luke accidently "killed" Kathy at her engagement party.
4. Whenever Reginald gives Kathy the "I want to kill you look".
5. Whenever Lucy gets the upperhand.
---
Tried, Almost, But Didn't:
The Attempted Murders of Katherine Belle!
1. Sick of Katherine's crap...Reginald Jennings...tried to silence the witch forever but mixing his own combination of drugs...Kat fell...but recovered!
2. While, sneaking midnight trips to Spoon Island...looking for the then 16 year old Nikolas...Stefan was playing target practice at a tree...trying to frame Luke for his attempted murder...oh..Luke wasn't around but Kathy was...OW! That must of hurted!!!!
3. I Fallen and I can't get up! Sorry...bad taste on my part...Once again Luke and Stefan were involved with some nonsense...Luke tried to kill Helena by un hidging a railing...hoping for Helena to fall to her death...sorry...after figuring out that Stefan and not Starvos was Nikki's father...well...it was the Poor Little (uh......) Blood Money Rich girl who splatted on the ground....I knew it wouldn't last but it was funny...and guess what? Lucy went to her Memorial Service...would Kathy do the same? Probably not...
Hey BTW...was Kathy still dead when Lucy and Scott were presumed dead? Not sure...I think so...anyway...
---
New Adventure!?!? Is the Kat Dead For Real!?!?
On October 8, 1999
Kat bit the Big one, AGAIN!!!
Read the Transcript
http://members.tripod.com/~GHTranscripts/gh99oct8.txt
Read the Poem!!!
Katherine Bell sat on a wall
Katherine Bell had a great fall
All the letters and all the campaigns Couldn't put Katherine together again!!!!!!!
A CASSADINE SHE'LL NEVER BE!!!!!!!!!!!!!!
Read The Song!!!
Kat's Fallin'
Decastle The Heartbreakers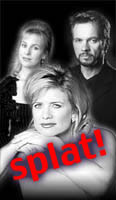 Took from PCO by permission of the author, Decastle
(Sing to the tune of Free Follin)
*****************************************************************************
She was a bad girl, loved her money
Everybody loves Jason, she probably did too
She was a bad girl, crazy 'bout Nikolas
He loves horses and pretty soon his dead brother's girlfriend too
It's a long day living in Port Charles
There's a big crane sitting on the dock
Nik's a bad boy cos he won't even miss her
He's a bad boy and I guarantee you he'll be more careful about where he puts his – HEY!
And she's Kat,
Kat's fallin'
Yeah she's Kat,
Kat's fallin'
All the Cassidines with their fake me out heir
Had a big wedding out at Wyndemere
Someone was waiting in the shadows
Pushed Kat out,
into thin air
And she's Kat,
Kat's fallin'
Yeah she's Kat,
Kat's fallin'
(Backing Vocals) Kat's fallin',
now Kat,
Kat's fallin',
now Kat's a Kat's fallin',
now Kat's fallin'
She's gonna plummet down onto Spoon Island
Over the parapet, one more time
Gonna fall fast out into nothin'
Hopefully, she's gonna leave for good this time.
(with backing vocals)
And Kat's fallin'
Yeah Kat's fallin'
(with backing vocals)
And Kat's fallin'
Yeah Kat's fallin'
More Kat Fun!
Miss Kathy just can't get married, huh? Always the bride never wed?!?!
That's not how it goes but with Kit Kat, yup yup Let's review her miss-weds...
Scotty: Lucy made Kathy look like the bitch she is
Stefan: Whoops! I am falling!!!
Nikolas: Slam Dunk!!!!
Return to Stef's Webpage Index